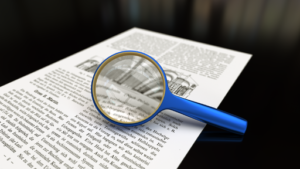 Terwijl wij allemaal heerlijk met vakantie waren, zijn er behoorlijk wat artikelen op het gebied van Information Literacy verschenen. Houd je vast, hier komt een behoorlijke opsomming uit de Information Literacy weblog van Sheila Webber. Er zit vast iets van jouw gading bij:
The latest issue of the open access College & Research Libraries News (vol 83 issue 7) has been published. It includes:
– Jennifer M. Brady and Susan Kromrie. Creating a self-paced library orientation and information literacy module: Providing access to library resources at the point of need.
– Debbie Sharp, Beth Fuchs, Peter Hesseldenz, and Karyn Hinkle. Merged learning outcomes for information literacy: A David Letterman-style Top Ten List.
Go to https://crln.acrl.org/index.php/crlnews/issue/view/1622/showToc
——————————————
---
The latest issue of Reference Services Review (priced journal) vol. 50 issue 2 includes
– Is the ACRL Framework a teaching tool? Undergraduates' interpretations of its language and concepts by Jennifer Jarson, Rachel Hamelers. "In this case study, the authors analyzed 25 undergraduates' reflections on their information literacy learning guided by recommendations for thematic analysis of qualitative data from Braun and Clarke (2006) and Castleberry and Nolen (2018). … The authors' analysis of students' reflections offers insight into how these students interpreted the Framework's language and related it to their own experience. By noting language that seemed to resonate in this instance, the authors suggest ways in which educators could effectively use the Framework's language with undergraduates."
– Information literacy: assessment of undergraduate and graduate nursing students by Rabia S. Allari, Khaldoun Hamdan, Maha Alkaid Albqoor, Abeer Shaheen. "Cross sectional-correlational design was utilized. Data were collected using an electronic self-administered questionnaire from graduate and undergraduate nursing students in Jordan. … Information competency of nursing students was positively correlated with students' age. Significant differences were found in information competency according to the academic level, addressing scientific research and research in databases in the course of the study, frequency of meeting the supervisor to discuss the research and university sector."
– Graduate student intellectual journeys: a functional method to identify library service gaps by Elizabeth Kline
Go to https://www.emerald.com/insight/publication/issn/0090-7324/vol/50/iss/2
---
—————————————
The latest issue of open access journal Comunicar, (issue 72) has the theme: The disinformation society: The impact of fake news on the public sphere. It is available in English and Spanish (the link below to the whole issue is to the English version, but the individual links are mostly to the Spanish; click on the flags at the top to go to a different language) https://www.revistacomunicar.com/index.php?contenido=revista&numero=72&idioma=en
– Creators and spectators facing online information disorder. Effects of digital content production on information skills by Gabriela Taddeo | Belinda de-Frutos-Torres | María-Cruz Alvarado https://doi.org/10.3916/C72-2022-01
– Unraveling disinformation: Notions and discourses from the Spanish population by Lidia Valera-Ordaz | Marina Requena-i-Mora | Dafne Calvo | Guillermo López-García https://doi.org/10.3916/C72-2022-02
– Russian disinformation in Eastern Europe. Vaccination media frames in ro.sputnik.md by Andreea-Alina Mogoș | Teodora-Elena Grapă | Teodora-Felicia Șandru https://doi.org/10.3916/C72-2022-03
– Rhetoric of parliamentary disinformation on Twitter by Eva Campos-Domínguez | Marc Esteve-Del-Valle | Cristina Renedo-Farpón https://doi.org/10.3916/C72-2022-04
– Quality recognition as a prescriber against disinformation by Dolors Palau-Sampio | Adolfo Carratalá | Raquel Tarullo | Paz Crisóstomo https://doi.org/10.3916/C72-2022-05
– The life of COVID-19 mask memes: A diachronic study of the pandemic memescape by Marta Dynel https://doi.org/10.3916/C72-2022-06
– Virtual reality with distractors to overcome public speaking anxiety in university students by Emma Rodero | Olatz Larrea https://doi.org/10.3916/C72-2022-07
– Political hate speech of the far right on Twitter in Latin America by Enrique Díez-Gutiérrez | María Verdeja | José Sarrión-Andaluz | Luis Buendía | Julián Macías-Tovar https://doi.org/10.3916/C72-2022-08– Smartphones in Higher Education. A longitudinal qualitative study by Irina Salcines-Talledo | Natalia González-Fernández | Laura Díaz-Herrera | Manuel Area-Moreira https://doi.org/10.3916/C72-2022-09
– Interdisciplinarity of scientific production on hate speech and social media: A bibliometric analysis by Antonia Ramírez-García | Antonio González-Molina | María-del-Pilar Gutiérrez-Arenas | Manuel Moyano-Pacheco https://doi.org/10.3916/C72-2022-10
---
——————————
– Ashraf, S., Batool, S., Sulehri, I., Eman, S., Rehman, A. & Mahmood, K. (2022). Measuring Everyday Health Information Literacy: A Survey of Pakistani Married Working Women. Libri, 72(2), 97-107. https://doi.org/10.1515/libri-2021-0021 (priced article) 
– Lloyd, A. and Hicks, A. (2022). Saturation, acceleration and information pathologies: the conditions that influence the emergence of information literacy safeguarding practice in COVID-19-environments. Journal of Documentation,  78(5), 1008-1026. https://doi.org/10.1108/JD-08-2021-0162 
–  Lykke, M., Bygholm, A., Søndergaard, L.B. and – Byström, K. (2022). The role of historical and contextual knowledge in enterprise search.  Journal of Documentation, 78(5), 1053-1074. https://doi.org/10.1108/JD-08-2021-0170 
– Solhjoo, N., Krtalić, M. and Goulding, A. (2022). Pets and people: information experience of multispecies families.  Journal of Documentation,  78(5), 1092-1108. https://doi.org/10.1108/JD-03-2021-0052 
–  Kainat, K., Eskola, E.-L. and Widén, G. (2022). Sociocultural barriers to information and integration of women refugees.  Journal of Documentation,  78(5), 1131-1148. https://doi.org/10.1108/JD-05-2021-0107
—————————–
The latest published issue of Journal of Librarianship and Information Science (vol. 54, issue 3) includes the following (priced unless marked as open access)
– The expanding circles of information behavior and human–computer interaction by Tim Gorichanaz, Sukrit Venkatagiri
– Relegating expertise: The outward and inward positioning of librarians in information literacy education by Alison Hicks, Annemaree Lloyd (open access)
– Information and information resources in 
COVID-19
: Awareness, control, and prevention
 by Mohammadhiwa Abdekhoda, Fatemeh Ranjbaran, Asghar Sattari (open access)
–
 Information seeking behaviors of environmental journalists 
by Stacy Gilbert, Philip B. White, Kathryn Tallman
– 
The role of the library within school-level literacy policies and plans in Australia and the United Kingdom
 by Margaret K. Merga
– 
Teachers' perceived information literacy self-efficacy
 by Miri Shonfeld, Noa Aharony, Noa Nadel-Kritz
Go to 
https://journals.sagepub.com/toc/lisb/54/3
---
A special issue of the open access Journal of Medical Internet Research (vol 24 no 7, 2022) focused on Social Media, Ethics, and COVID-19  Misinformation. It contains a lot of articles, for example:
– Inoue, M., Shimoura, K., Nagai-Tanima, M. & Aoyama, T. (2022). The Relationship Between Information Sources, Health Literacy, and COVID-19 Knowledge in the COVID-19 Infodemic: Cross-sectional Online Study in Japan. Journal of Medical Internet Research, 24(7):e38332. https://doi.org/10.2196/38332
"An online cross-sectional study was conducted in November 2021. Participants were 477 individuals aged 20-69 years. After obtaining consent to participate in the study, participants were asked about sociodemographic indicators, sources of health-related information, health literacy, and COVID-19 knowledge. Sources of health-related information were categorized into 4 types: mass media, digital media, social media, and face-to-face communication. The Spearman rank correlation test was conducted to determine the relationship between health literacy, the number of correct answers to COVID-19 knowledge, and the number of information sources used. Multiple regression analysis was conducted with health literacy and the number of correct answers as dependent variables, the 4 media types as independent variables, and age and sex as adjustment variables.
"Mass media was the most frequently used source of information, followed by digital media, face-to-face communication, and social media. Social media use was significantly higher among individuals aged 20-29 years than among other age groups. Significant positive correlations were found between health literacy, the number of positive responses to COVID-19 knowledge, and the number of information sources used. Multiple linear regression analysis showed that health literacy is associated with access to information from digital media and face-to-face communication. Additionally, COVID-19 knowledge was associated with access to information from mass media, digital media, and face-to-face communication."
Go to https://www.jmir.org/themes/1142-theme-issue-social-media-ethics-and-covid19-misinformation
– The COVID-19 infodemic among young people and adults: The support of critical media literacy by J.-Roberto Sánchez-Reina, Barcelona (Spain) & Ericka-Fernanda González-Lara, Puebla (Mexico).
– Learning strategies through digital games in a university context by Fernando-Silvio Cavalcante-Pimentel, Alagoas (Brazil), Margarida Morais-Marques, Aveiro (Portugal) & Valdick Barbosa-de-Sales-Junior, Alagoas (Brazil).
– Secondary education students and media literacy in the age of disinformation by Eva Herrero-Curiel, Madrid (Spain) & Leonardo La-Rosa, Madrid (Spain).
– Emoticons in student-professor email communication by Alenka Baggia, Maribor (Slovenia), Anja Žnidaršič, Maribor (Slovenia) & Alenka Tratnik, Maribor (Slovenia).
————————-
The latest issue of open access journal College & Research Libraries (Vol 83, No 4, 2022) has been published at https://crl.acrl.org/index.php/crl/issue/view/1621/showToc. Articles include:
– Community College Students' Perceptions of Their Information Literacy Needs by Don Latham, Melissa Gross, Heidi Julien, Felicia Warren, Lindsey Moses
– Identifying Scholarly Search Skills Based on Resource and Document Selection Behavior among Researchers and Master's Students in Engineering by Yasuko Hagiwara, Emi Ishita, Yukiko Watanabe, Yoichi Tomiura (the comparison of the responses from the 2 groups is useful in identifying what  skills students need to learn in finding and evaluating research articles)
– Reflection and Analysis of Implementing a Free Asynchronous MOOC to Build Competence in Biomedical Research Data Management by Julie Goldman, Nevada Trepanowski
————————
The latest complete issue of the Journal of Academic Librarianship (a priced publication), Volume 48 issue 4 (July 2022) has a COVID-19 focus and includes, amongst other articles, the following:
– Automated Epistemology: Bots, Computational Propaganda & Information Literacy Instruction by Ian O'Hara
– "First years' information literacy backpacks: What's already packed or not packed?" by Joyce Kasman Valenza et al.
– Health sciences librarian research and instruction services in pandemic information environments by Deborah H. Charbonneau, Emily Vardell
– Reading Format Attitudes in the Time of COVID by Diane Mizrachi, Alicia M. Salaz
– Effectiveness of Virtual Reference Services in Academic Libraries: A Qualitative Study Based on the 5E Learning Model by Angel Lok Yi Tsang, Dickson K.W. Chiu
– Transformation of libraries during 
Covid-19 pandemic : A systematic review by Murtaza Ashiq, Farhat Jabeen, Khalid Mahmood
– Students with disabilities and library services: Blending accommodation and universal design by Casey Alexander Roberson, Trisha Barefield, Eric Griffith 
Also a refreshing read is COVID-19 doesn't change anything: Neoliberalism, generation-ism, academic library buildings, and lazy rivers by John Buschman
Go to https://www.sciencedirect.com/journal/the-journal-of-academic-librarianship/vol/48/issue/4
——————
– Veletsianos, G., Houlden, S., Hodson, J. et al. (2022). An Evaluation of a Microlearning Intervention to Limit COVID-19 Online Misinformation. Journal of Formative Design in Learning. https://doi.org/10.1007/s41686-022-00067-z "As part of a design-based research project, we designed, developed, and evaluated a web-based microlearning intervention in the form of a comic into the problem of COVID-19 online misinformation. In this paper, we report on our formative evaluation efforts. Specifically, we assessed the degree to which the comic was effective and engaging via responses to a questionnaire (n = 295) in a posttest-only non-experimental design. The intervention focused on two learning objectives, aiming to enable users to recognize (a) that online misinformation is often driven by strong emotions like fear and anger, and (b) that one strategy for disrupting the spread of misinformation can be the act of stopping before reacting to misinformation. Results indicate that the comic was both effective and engaging in achieving these learning objectives."
The comic is more like a poster, i.e. fairly short, and it is reproduced well in the article – worth taking a look at. 
 – Germani, F. & Biller-Andorno, N. (2022). How to counter the anti-vaccine rhetoric: Filling information voids and building resilience. Human Vaccines & Immunotherapeutics https://doi.org/10.1080/21645515.2022.2095825
An interesting article in its discussion of how you should aim to get to know what the concerns of the vaccine-hesitant are, so that you can persuade them more effectively (and not just use rational argument, but also use emotional images etc.) However the authors really needed to do some further reading before writing the sentence "The role of education in building information literacy has been widely discussed, but so far, it can be considered marginal" (in fact they then don't actually discuss information literacy, so I'm not sure they are fully up to speed with its meaning).